What To Wear|Studio Guidelines


What to Wear
We encourage formal attire, which photographs best. This is your family's "night on the town" where everybody looks and feels their best. Choose timeless clothing with character, personality, and style.It is slimming, and creates a stunning piece of artwork we know you will love. We encourage families to look sophisticated and elegant, as if you are attending a wedding or fine restaurant. We don't hear families say they wished they had dressed down, but we do hear families say they wish they had dressed up more. We of course want you to wear what represents you and your family.
We always recommend timeless clothing, not trendy clothing that will look silly in a year or so. One of our greatest recommendations is to avoid patterns, as they distract from faces and add volume. This is one of the most important things to remember.
Please bring a couple of different wardrobe options for each family member. Because not everything that feels right photographs well, choice is essential to your successful session.
For men:
Coats and jackets are recommended for men. For more casual, wear a nice sweater over a dress shirt
A dark dress shirt or t-shirt looks great under a jacket, especially with dark jeans.
Layering adds depth and dimension.
Boys also look good in jeans, cable knit sweaters, and canvas or denim shirts.
For women:
We recommend dark or Jewel-toned dress or outfits are the most flattering. Dark colors add shadows in the areas we appreciate shadow. We always recommend that women stay away from pattern especially, as we usually hear women talk about it when they don't. Fitted clothing is best. Avoid loose swaying clothes.
Dresses photograph exceptionally well and flatter most women.
Your natural makeup style is usually best.
Manicures and pedicures matter.
Jewelry enhances your look.
Little girls look adorable in party dresses.
For children:
We recommend the same concept as the parents. Dress little girls in dresses. Cream is a common color for them, as it is bright and draws attention to them. Little boys look perfect in textured sweaters, little suits, bow ties, vests and such.
No need to have everyone wearing the same outfit, but simply coordinate as a family. Choosing 2-3 colors helps to coordinate. Again, we recommend black, grey, navy, and rich jewel tones. Black and white is one of our most popular color combinations.
For Casual:
If you absolutely must be casual, the following guidelines need to be followed for it to be a success: You should still be in something dark, solid and fitted; not baggy and busy. Wear clean shoes, not sneakers, especially with colors. Do not wear white sox or white sneakers with dark clothes.
Also, choose a style that will look acceptable 20 years down the line, as many people make the mistake of wearing trendy clothing only to regret it when fashions change. Remember it's your face and eyes that should draw the attention in the portrait not your clothing.
Avoid Bold Patterns or Logos - Strong patterns and stripes can date a portrait quickly and take the attention away from your faces. For a timeless and more artistic look, stick with solids and subtly textured fabrics.
Don't Mix Whites and Darks : Do not dress in white shirts unless everyone is wearing white or cream or the white shirt is under a sweater or jacket. Unify the group with a "dark-on-dark" mix of clothing, OR a mix of "light-on-light" tones. Don't mix dark and light tops and bottoms. Especially in larger groups, your portrait can end up too "busy". Ideally, we don't want your outfits to compete for attention with your faces.
To Slenderize, wear dark clothing. Longer sleeves are generally more flattering than short sleeves.
Black and White Fine Art
Black and white portraits are soulful and show emotion and the clothing should be simple and allow for flexibility. For black and white portraits, the clothing needs to be dark colors and non-restrictive (no tight or short dresses).
Our background and lighting are tailored to render your portrait as a timeless work of art and requires dark, muted clothing to ensure that your family's faces and features are the center of attention.
For that reason, absolutely every piece of clothing must be very dark in tone. Because we photograph in black and white, colors never clash, so navy and black are fine together.
Bring solid colors that are dark (navy, charcoal gray, forest green, burgundy), mid to long sleeves, easy to move in and minimal jewelry.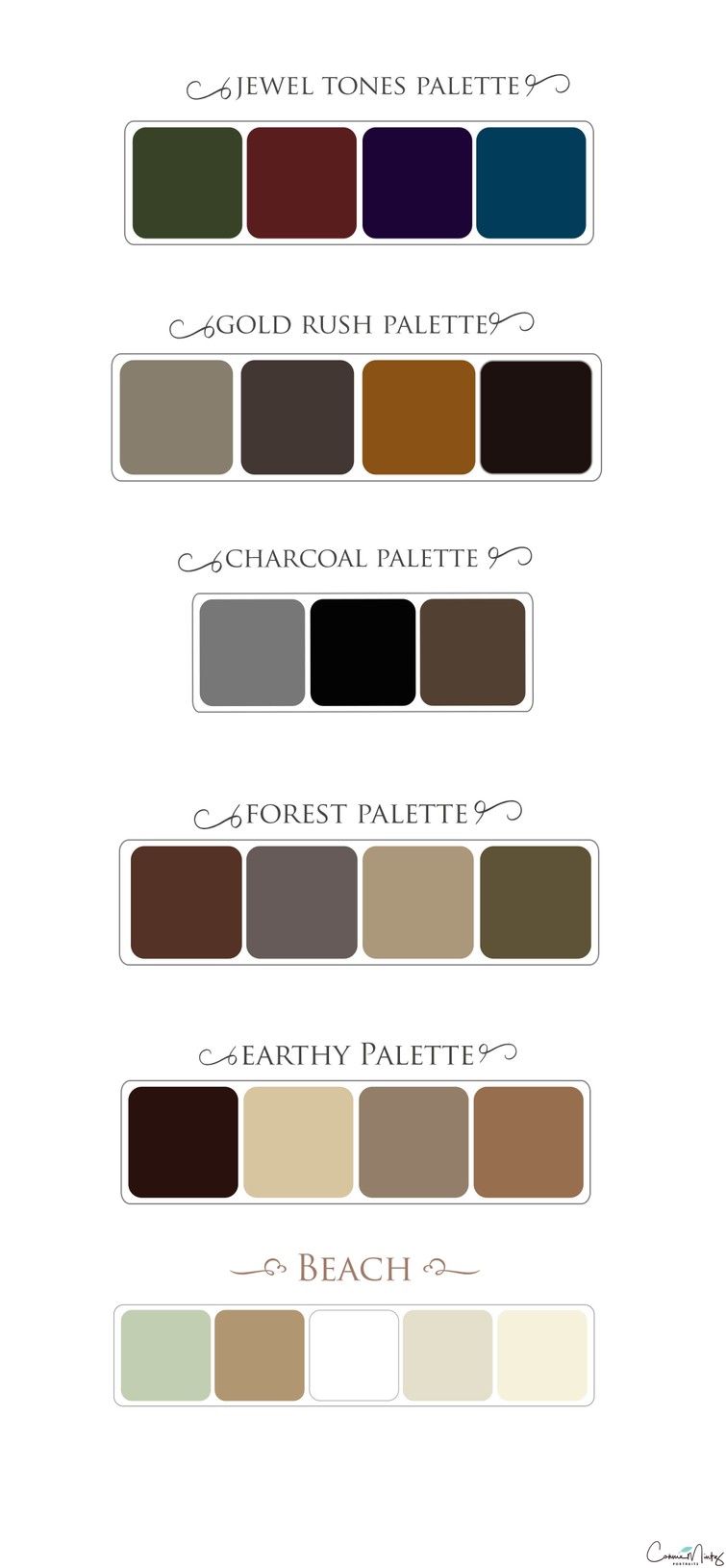 Preparation Guidelines
• Please make sure everyone has eaten before the session (including men and adult children). We have found that when families are hungry, the sparkle in their eyes for their portraits isn't quite as bright.
• Please don't bribe children, even teenagers. This can change attitudes and make it difficult for little ones to get through the session because they are so focused on the bribe. Families who bribe their children may lose 20-30 minutes of happy children for their session time.
• Ensure ever gets a haircut and trim to your liking. This is just a bug in your ear to make sure you have time to schedule appointments if your session is off-schedule with his haircuts.
• Women should do their hair and makeup like they normally do, or a little bit more. Please arrive with hair and makeup complete. We do find many of our clients choose to have their makeup finished professionally to add to the portrait experience this is just a bug in your ear to make sure you have timeto schedule an appointment if you would like to do this. If you are having professional hair and makeup do allow plenty of time so you are not running late. If needed, please ask us for salon recommendations.
• No Bronzers or self tanners or glittery, sparkly makeup.
• Make-up should be clean and natural and matte. Bring extra powder foundation to control shine.
• Avoid frosts or overly-bright colors
Summary of the Process:
• Please be on time, ready to go for the session. The time we lose to lateness or changing clothing is taken out of your session time. Makeup and hair should be complete prior to arriving. As everyone arrives dressed, no need to worry about wrinkles. Our amazing artist can make adjustments to remove wrinkles.
• We will start the session with you right away. Please remember we have reserved 2.5 hours for you and your family, for both your session and ordering appointment.
• Once your session is complete, you will be able to relax in our ordering room while we download your images.
• Then you will have your ordering appointment, where we will walk you through choosing images and making final selections. Remember, we will likely provide bonuses exclusively at that appointment, so make sure you and your husband are ready to finalize your order at that time. Dads like to know ahead of time that this is the time you will make all of your final decisions so they aren't surprised, so please make sure to share that with him.
As a reminder, I need a couple of things from you:
• Images of three walls in your home. We will be emailing you a direct link with the instructions for taking and uploading your room views.
• We'd love to see what you are planning for clothing before the session. We enjoy helping with clothing choices. Feel free to email us or text us your clothing choices. It's best to lay everything out on a bed and take a snapshot of all the clothes together. If you squint your eyes, everything should just look even. If something is popping out from the rest, chances are they are too bright or not in the same tones as the other items.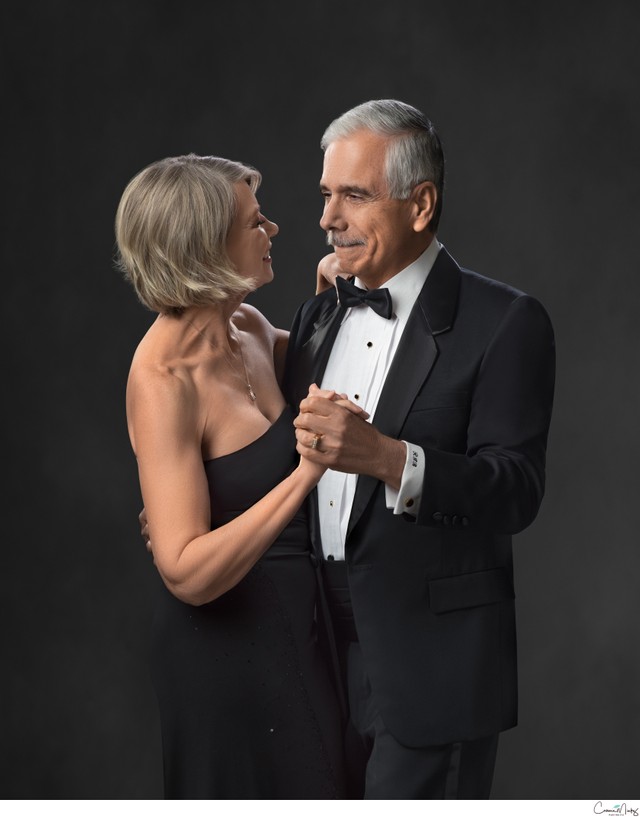 What to Expect-Studio Policies & Ordering Guidelines
We do our best to fulfill your needs and meet your expectations. We will stop at nothing to achieve the very best results for you. To achieve this, it's important that you are aware of how our studio works. These guidelines are designed to have things written down so our business policies are transparent and you know what to expect. We intend to deliver excellent customer service, now and in the future.
GIFT CERTIFICATES: Gift certificates are for studio only and for the recipient and their family. "Family" include parents and/or grandparents with children of any age. The certificate is only valid if used by the named recipient, is non transferable, not redeemable for cash and may not be used to pay any outstanding order balances for the recipient or any client.
CHILDREN: If you would like your children photographed individually or together, we are happy to photograph them at no extra charge separately and together so long as the entire family unit attends the Portrait Session.
PARTIAL FAMILY: We do not photograph 'incomplete families', where a family member is not been able to attend the portrait session. We are more than happy to reschedule a new appointment for you when you can be all together.
BOOKING DEPOSIT: The booking deposit is required to hold a session day and time. We require a one week notice to reschedule. We block out 2 hours in our studio plus bring in staff. Shorter than one weeks notice may require another booking deposit. The booking deposit is refundable on the day of your studio appointment as long as you show up. The booking deposit can be applied to additional purchases.
CANCELLATION: If you have a sick pet/child on the day of the session please call to reschedule. If you try to keep the appointment, I will most likely request that you reschedule if we notice your child is sick. Ill or uncomfortable children do not like to be photographed and we know that you will not love your portraits nearly as much as if he or she were in good health.
PAYMENT: Payments are due at the time of ordering and can be paid by cash, check or credit card and are due at the ordering session. Payment plans are available by arrangement.
STUDIO POLICIES: Please bring only the subjects to be photographed to the session including siblings and the person that might be helping you to the studio. This is especially important with milestone sessions, as I will need the full attention of the child to be photographed.
VIEW AND ORDER: You will view your portraits at a personally attended slideshow on the same day as your portrait session. You will be asked to order at this time. Please make sure all decision makers are present since studio promotional offers are only available at this time. Payment in full is due at the view and order session or first payment on a payment plan. Discounts only apply on the day of the view and order appointment.
CUSTOM ORDERS: Due to the custom nature of our work, payment for your order must be placed in full before ordering. Once an order is sent out for production, it is deemed non- refundable. Please allow 8-12 weeks for delivery of your product since each piece is artistically handcrafted with one-of-a-kind work of art.
COPYRIGHT: The Studio is assigned the Copyright in all material produced by the Studio. That copyright belongs to the Studio. Violations against the copyright laws include, but are not limited to making illegal copies, scanning, printing from home or downloading from our website. It is illegal to copy or reproduce these photographs in any manner without our permission.
RETOUCHING AND CONVERSIONS: Standard retouching for albums and small prints includes light blemishes at no additional cost. Complex retouching includes such changes as the removal of scars, fine hairs and time consuming cloning are available at an hourly fee of $50/hour. Wall Portraits receive complex retouching at no additional charge and are considered our "Signature Retouching".
MODEL RELEASE: Clients give permission to publish and use photographs on the studio's website and for social media sharing which might be for advertising, promotion, trade, exhibition, and distribution. Clients may apply restrictions to use.
SOCIAL MEDIA FILES: The Client may share Facebook albums and gallery links through use of "share" functions on social media sites or by using direct links provided by the photographer. Client does not have permission to apply filters, copy, download, screen shot, or capture the photographs in any other fashion. Only watermarked images may be displayed on social media sites.
Thank you!